Profile
Draco Dormiens Numquam Titillandus
Never Tickle A Sleeping Dragon
Free Account
Created on 2009-07-23 12:15:48 (#430371), last updated 2011-06-29 (307 weeks ago)
12 comments received, 34 comments posted
52 Journal Entries, 6 Tags, 1 Memory, 12 Icons

About
| | |
| --- | --- |
| Name: | lanaura |
| Birthdate: | Jan 22, 1995 |
| | |
| | |

Mini Bio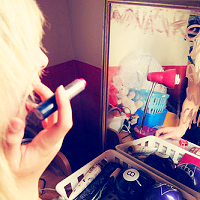 Hello, I'm Lanaura. I decided to make a dreamwidth account in order to stop cluttering my livejournal account seeing as I sometimes post up to two or three times a day.



Bio:


Let's see...I'm sixteen and a freshman. I'm mostly into anime and manga. Examples would be Death Note, Saiyuki, Crimson Spell, Ranma 1/2, and Fullmetal Alchemist. I'm also a Harry Potter fan and yes I do happen to play Runescape. I'm just your basic geek.

Besides the above my favorite genres of anime/manga and books are sci-fi, comedy, fantasy, and action. Favorite genres of music would be pop and rock. And my hobbies are...well my hobby is reading and writing. I suppose it doesn't take long to figure out what I write. Anyways I can come up with ok original stories but thats usually when I really have too.
banner made by

refuted
Let's see if I get any.
*HUGS* TOTAL!
give lanaura more *HUGS*
Get hugs of your own

Connect
a haunting
,
anime
,
art
,
cartoons
,
comedy
,
comics
,
computer
,
courage the cowardly dog
,
death note
,
doujinshi
,
dragon cave
,
dragon rider
,
e nomine
,
family guy
,
fanfiction
, fanlists,
fantasy
,
folktales
,
fullmetal alchemist
,
gemma doyle trilogy
,
gravitation
,
harry potter
,
hazel grosse
,
history
,
humor
,
inuyasha
,
lord of the rings
,
loveless
,
maki murakami
,
manga
,
movie theatres
,
movies
,
my chemical romance
,
mystery hunters
,
mythology
,
nick at nite
,
pixar
,
pop music
,
reading
,
rock music
,
runescape
,
saiyuki
,
shounen
,
shounen-ai
,
sirius radio
,
son goku
,
spiderwick chronicles
,
that 70's show
,
the underland chronicles
,
three days grace
, truth or scare,
vampire kisses series
,
witchblade
,
writing
,
yaoi

People
[View Entries]

Communities
[View entries]

Member Of (13):
anime_manga
,
bringthehappy
,
doujinshi
,
dragon_cave_on_dw
,
dragon_pens
,
dragonspam
,
dw_codesharing
,
geek
,
harrypotter
,
page_a_day
,
randomthoughts
,
scans_daily
,
slashthedrabble

Subscriptions (12):
anime_manga
,
bringthehappy
,
doujinshi
,
dragon_cave_on_dw
,
dragon_pens
,
dragonspam
,
geek
,
harrypotter
,
page_a_day
,
randomthoughts
,
scans_daily
,
slashthedrabble

Administrator Of (0)

Feeds
[View Entries]

Subscriptions (0)

Linking
To link to this user, copy this code:
On Dreamwidth:
Elsewhere: